Call for abstracts
2nd Scientific ReAttach Conference
May 29/30 2020 / Skopje, Macedonia
Embracing Complexity Makes Sense!
We invite abstract submissions for oral and poster presentations at the 2nd Scientific ReAttach Conference / May 29-30, 2020 Skopje Macedonia. The event will be organized by ReAttach Therapy International Foundation and the Macedionian Scientific Society for Autism.
The general theme of the 2nd ReAttach Conference is "Embracing complexity".
Autism will remain one of the main topics of the ReAttach Conference. A special focus lies on accessible and affordable interventions to support individuals with neurodevelopmental disorders.
Abstract submission should link with one of the conference topics:
1. ReAttach
2. Autism
3. Neurodevelopment
4. Clinical Psychiatry
5. Neuro-Rehabilitation
6. Special Education
7. Motor Imagery
Confirmed Keynote Speakers: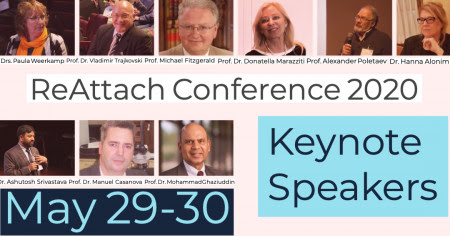 Prof. Michael Fitzgerald, Prof. Dr. Donatella Marazziti, Prof. Alexander B. Poletaev, Prof. Dr. Manuel Casanova, Prof. Dr. Mohammad Ghazziudin, Prof. Dr. Vladimir Trajkovski, Dr. Hanna Alonim, Dr. Ashutosh Srivasta, Drs. Paula Weerkamp-Bartholomeus
Conference website
Visit https://reattachconference.org for the latest information about this conference.  You can also find speakers guidelines and rules for abstract submission here.
Paula Weerkamp-Bartholomeus     Prof. Dr. Vladimir Trajkovski
ReAttach Foundation President             MSSA President
reattachfoundation@gmail.com           journaljrtdd@gmail.com